Inflight meal
Peach launches our new Okinawa (Naha) - Bangkok (Suvarnabhumi) route in February 2017. We are celebrating with a special DELI menu featuring Thailand! Enjoy the warm and friendly atmosphere of Thailand onboard.

Tom Yum Goong Takoyaki
¥750
World's first unique Takoyaki? Paste of coriander and Tom Yum Goong mixed in dough. The combination of octopus and shrimp makes for a spicy and yummy taste.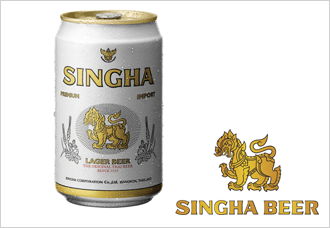 Worlld-renowned Thai premium beer - SINGHA, good taste harmonizes with asian cuisine.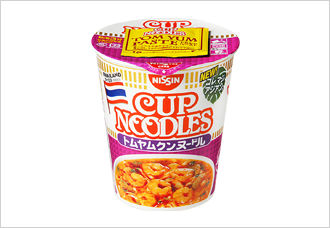 Nissin Cup Noodle (Tom Yum Goong)
¥400
Creamy and thick Tom Yum Goong flavor soup.
Fragrance of coriander is authentic.
Meals
* Prices show in Japanese Yen.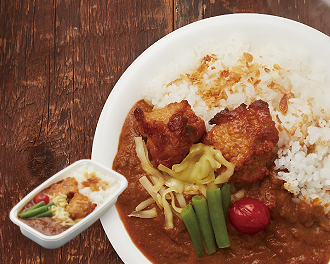 Fried Chicken Cheese Curry
¥900
Curry and rice topped juicy fried chicken and melting cheese.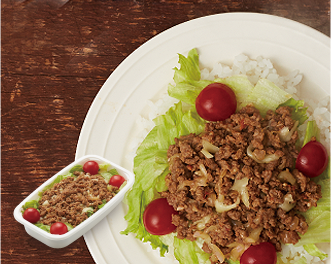 Okinawa's soul food! Great combination of ground meat, cheese and lettuce.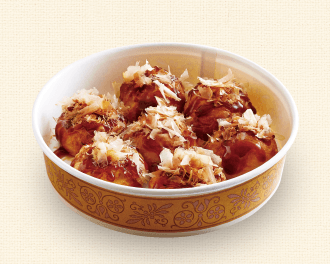 Osaka TAKOMASA's Takoyaki
¥750
Must try item! Only Peach can bring you the taste of Doutonbori, Osaka!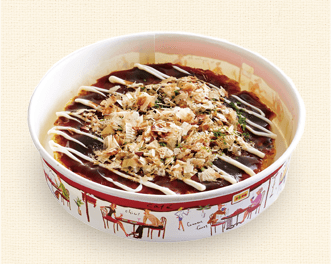 Okonomiyaki from Osaka's
famous "CHIBO" restaurant
¥800
Authentic Osaka-style Okonomiyaki! Rich flavor kids also love it. Irresistible meal.
Desserts
* Prices show in Japanese Yen.
Peach Danish
¥350
Osaka SakuSaku waffle

with Peach original design box

¥350
Kotabe Matcha
¥400
Peach Ice Milk
¥400
Snacks
* Prices show in Japanese Yen.
Grilled crab rice porridge
¥500
Five Vegetable Noodle Soup Japanese style
¥500
Nissin Cup Noodles (Standard)(Seafood)
  Nissin DONBEI (kitsune udon)
¥400

each

Miso soup Tofu
¥300
TAMURA's Curry Puff
¥450
Peach Original Assorted Nuts and Rice Crackers
¥150
Japanese rice cracker flavored with soy sauce
¥200
Mini Pineapple Candy
¥150
Chipstar
¥150
DARS milk chocolate
¥150
SOYJOY Crispy Mix berry
¥200
Beverages
* Prices show in Japanese Yen.
COLD DRINKS
Minute Maid Grape / Apple - Luxury for Adults
evian Mineral Water
FUJIYA Peach NECTAR
POCARI SWEAT
Vegetable & Fruits Mix Juice
ITOEN Japanese Green Tea
Sprite
Calpis Water
Canada Dry Ginger Ale
Tully's Iced Coffee
Apple Juice

| | |
| --- | --- |
| ・ Wakayama Orange Juice | ¥300 |

Coca-Cola

| | |
| --- | --- |
| ・ RUNE Mineral Water | ¥180 |

Coca-Cola Zero

| | |
| --- | --- |
| ・ Jelly Drink (Peach flavor) | ¥300 |
HOT DRINKS
Coffee
Lupicia Tea(Peach Melba)
ITOEN Japanese Green Tea
Onion Soup
ALCOHOL
"Angel's Fruit" Red Wine/White Wine produced by OSAKA KATASHIMO Winery
¥800
Asahi Beer Dry Premium Hojo
¥600
Asahi Beer Super Dry
¥500
Asahi Beer Dry Zero

(Alc 0.00% Non-alcohol)

¥400
Asahi Black Nikka Highball
¥500
Wilkinson Tonic + Vodka
¥500
Single purchase of an alcoholic beverage(except wine) comes with a Peach original snack.